How to choose your bindings
All sails come with a carabiner per angle.
1. Our recommendations without rolling sail
We recommend that you put a reinforced tension system at every angle. 

You are free to take the tension system alone or to associate it with a hanging system or mast depending on your situation.

We do not recommend using a short tension system in this case because its travel is not large enough to tighten the sail, which can extend slightly a few times after use. 
1. Our recommendations with roller shade sail
In that case you will have to select a short wall fixture and a reinforced wall fixture for the rolling axe. For other corner of the sail (1 if it's a triangular and 2 if the sail has 4 corners) you will have to choose a standard system. 
3. The different types of fixation
There are three categories of fixations:
- tension systems : they allow to stretch the sail and fix it on an already existing attachment point (ring, hook ...);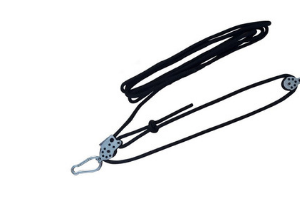 - wall fixings : they are composed of a tension system and a wall hook;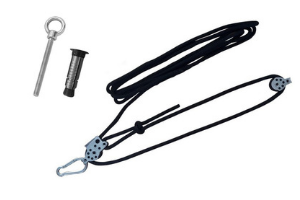 - adjustable masts : they allow to create a point of fixation outside the walls.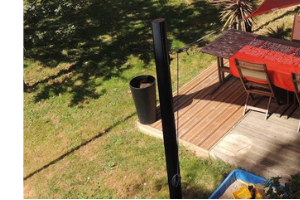 In each category, we offer several models that each respond to a specific need:
The voltage systems:
- short : only in the context of a retractor sail , to be placed at the end of the reel to which you wish to have the rope used to use the retractor;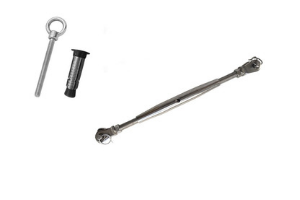 -  long standard : only in the context of a roller sail , to be placed at the off-axis winding angle or angles (see diagram on the recommended fastenings for a furling sail in paragraph 2);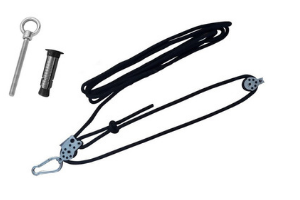 - reinforced long : in all other cases for sails Austral 340 and Acryl 300.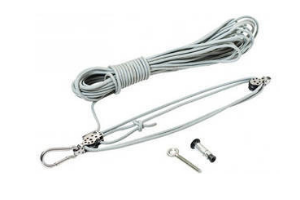 The wall mounts
For each wall mounting you have to choose a tensioning system and a hanging system  :
- hanging system for wooden walls or equivalent (minimum 60 mm thick);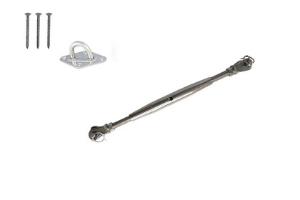 - hanging system for all other walls (concrete, brick, stone, block ...). 
Attention : for Siporex cellular concrete walls it is advisable to choose this attachment system but to make a chemical seal in place of the use of the  expansion anchor).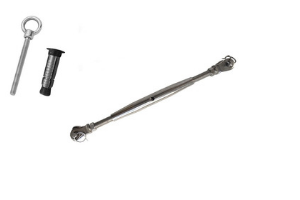 The adjustable masts
For each mast it is necessary to choose a system of tension and a base  :
mast base to be sealed : mast to be sealed in a block of concrete (not supplied) square of 40 cm of side in loose ground; it is the strongest mast. 
There are two reinforcing tubes to the mast: 120 cm for the sails to 18m, and 260 cm  per our larger sails. This mast can be mounted straight (90 °) or inclined (75 °).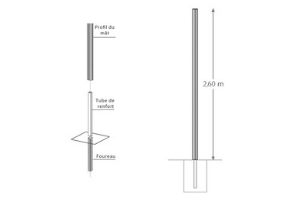 - Mast base to screw : mast to screw on a hard ground. 
There   are two versions: right (90 °) or inclined (75 °).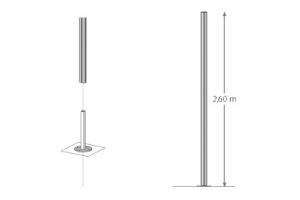 - mast baseplate wall plates : mast to fix on a wall of 70 cm minimum.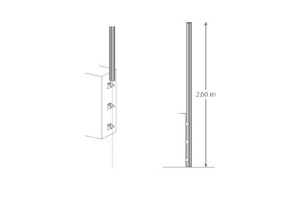 Reinforcements are available to stiffen the masts if the sails attached to them exceed a certain area:
- mast to seal: stay or reinforcement gusset from 28m ² of sail;
- mast to screw: stay or reinforcing gusset from 18m ² of sail;
- Mast with wall plates: tube inside the mast from 18m ² of sail.
NB: the short attachment is the one on which there will be the line of maneuver used to use the retractor. Where possible, we recommend a wall mount rather than a mast.