Create an account
Enter your email and password to access your account
I am already a customer?
Log in with your login details
Identify yourself
Enter your email and password to access your account
Don't have an account?
Fill out the form to get your account
Shopping cart
There are no more items in your cart
Total (tax included.)
€0.00
Australe 220 Roller
Shipping time : 72h

Wind resistance: 80 km/h

220 g/m²
Standard openwork roller shade sail
You will find discounted shade sail with a manual roller shade sail.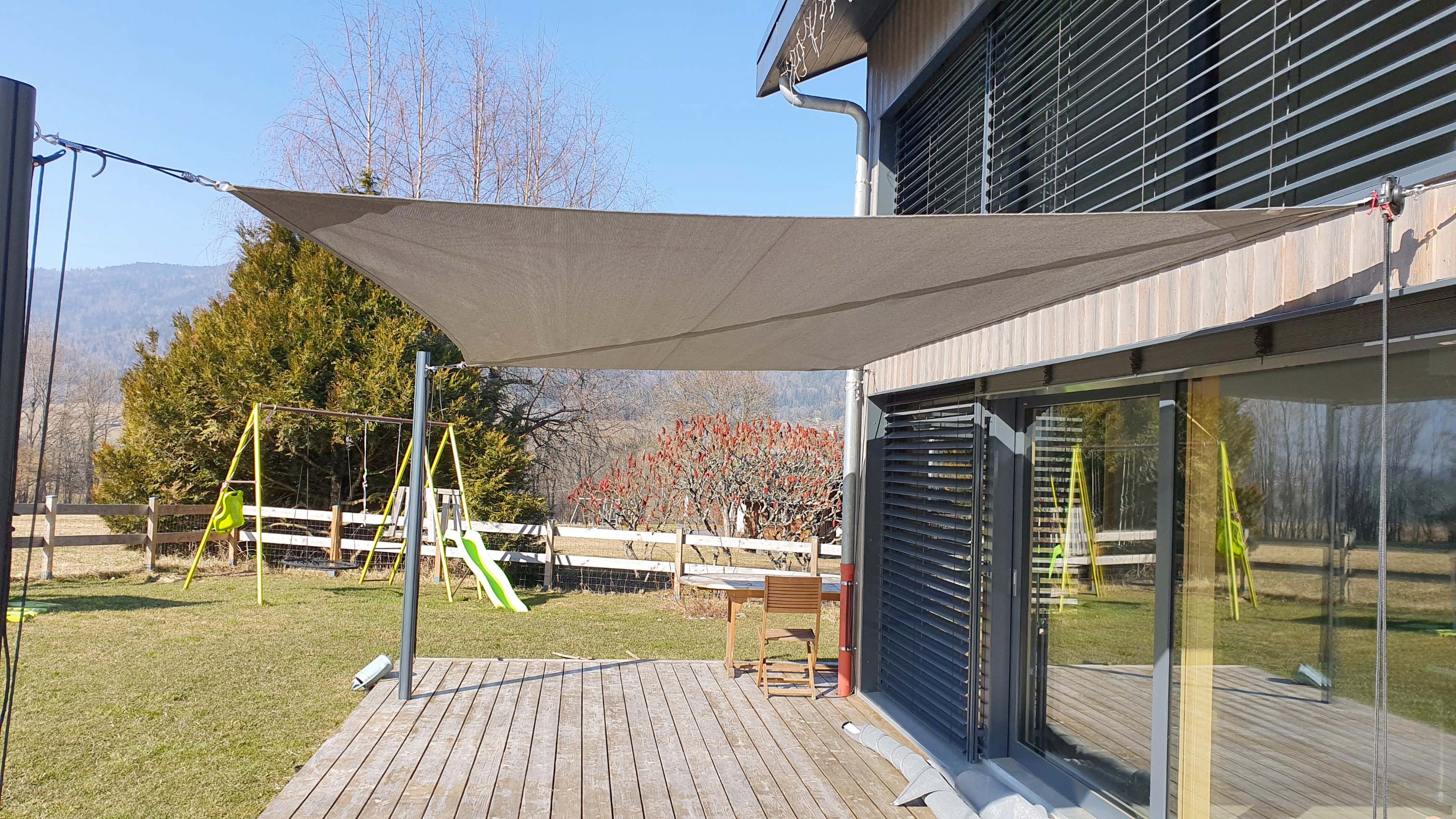 Description
Enjoy optimal comfort with your Australe 220 roller shade sail!
With its micro-ventilated fabric, the Australe 220 shade sail is made of 220g/m² high density polyethylene and can withstand winds of 60-80km/h while filtering 90% of UV rays.
Please note that the installation of this product requires an adjustment to be made by the customer during installation.
It will be necessary to enlarge a hole in the two aluminium plates sewn onto the sail (from 10mm diameter to 11mm). This will allow the sail to be attached to the new 2020 furling mechanism.
High quality design
Reinforced thread finish for this AUSTRALE 220 sail
Design without eyelets to prevent tearing
Reinforcing webbing inserted in a hem around the perimeter of the shade sail and forming a loop at the corners: the pulls are thus distributed over the entire surface and the shade sail benefits from a better resistance.
Technology derived from the manufacture of boat sails.
Seams and webbing guaranteed for 2 years
Roller details
New 2020 reel with 316 stainless steel ball bearing
Black colour, diameter 150 mm
Rolling up by an "endless " manoeuvring rope with wedge cleat.
Warranty on the winding mechanism: 2 years
Rotation strap Grey for the Terracotta and Anthracite Grey sails and white for the Ivory sail.
2 year warranty on fabric
The fabric of the AUSTRALE 220 is made of high density polyethylene yarn. Guaranteed for 2 years, it provides : 
90% UV filtration
Grammage 220g/m2  
Chlorine resistant
Very good tensile strength
Very good wind resistance thanks to the air permeable fabric
Guaranteed to be free of toxic substances and to pose no risk to health, skin or the environment.
How the Roller Shade Sail works
How to roll up and unroll your roller shade sail
Roller shade cloth shapes available

4,00 x 3,00 x 4,00 x 5,50m (13,25m2)

3,50 x 3,50 x 4,50 x 4,50m (11,80m2)
Positioning of the winding pins
(View of the fabric from above)
You will need additional products to fix your roller shade sail.
How to install a roller shade sail
In order to better understand how our Roller Shade Sail works, we offer you this video tutorial detailing step by step its installation process.
Prendre les mesures
Les points de fixation doivent toujours se situer dans le prolongement des diagonales de la voile d'ombrage (médianes pour les triangles) :
Prévoyez une marge d'un minimum de 45 cm dans ces diagonales pour que les fixations exercent une tension suffisante.
Les côtés des voiles d'ombrage sont incurvés. Cela permet d'assurer une bonne mise en tension de la voile, sans plis.
La taille de la voile d'ombrage sous tension peut varier jusqu'à +/- 5% par rapport à la taille donnée, en raison de l'élasticité du tissu, des processus de fabrication et de la tension apportée à la voile..
Choisir les fixations
Afin de garantir la bonne installation de votre voile, nous vous préconisons les systèmes de tension suivants :
- 1 système de tension court du côté de la corde de manœuvre de l'enrouleur ;
- 1 système de tension renforcé à l'autre extrémité de l'enrouleur ;
- des systèmes de tension standards pour les autres angles (1 si voile triangulaire, 2 si voile quadrilatère).
Ces systèmes de tension peuvent être associés à tout type de fixation (murale ou mât réglable).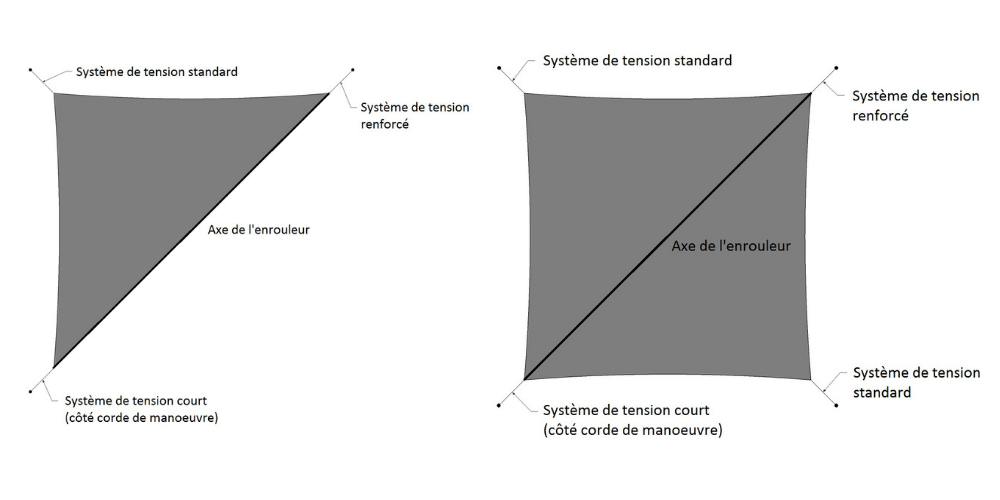 And if you discover other products?
A roller shade sail comes in two formats: quadrilateral and triangle. When it is rectangular, the roller is in the diagonal of the sail. When it is triangular, it rolls up on its longest side. When rolled up, these sails have good wind resistance.
We recommend this wall mount only to fix the roller sail. In all other cases, we recommend tensioning systems with rope and pulleys that will allow you to attach/unattach your sails and to tension your sails without force.
Discover the shaded terraces of our customers!