Create an account
Enter your email and password to access your account
I am already a customer?
Log in with your login details
Identify yourself
Enter your email and password to access your account
Don't have an account?
Fill out the form to get your account
Shopping cart
There are no more items in your cart
Total (tax included.)
€0.00
Shade sails with manual roller system
Roll and unroll your roller shade sail easily
A roller shade sail offers a clear advantage for places exposed to the freak of the wind. Depending on the weather, you can easily roll up your shade sail to protect it. Choose the fabric you want according to your requirements (Australe 340 or Acryl 300). For the dimensions, you can select the standard sizes of roller sails or prefer a custom-made sail to match your surroundings.
Retractable shade sails with manual roller
Enjoy greater comfort while using your sail thanks to the roller system. The notched pulley allows you to wind up the sail at any time, thus protecting your system during strong winds. This system is ideal for those who want to have a sail while being able to store it easily : the roller sails can be roll up and down very quickly, in less than a minute!
How to choose the right shade sail?
To choose your shade sail, you need to know in advance for which reason you need it. Here are some answers.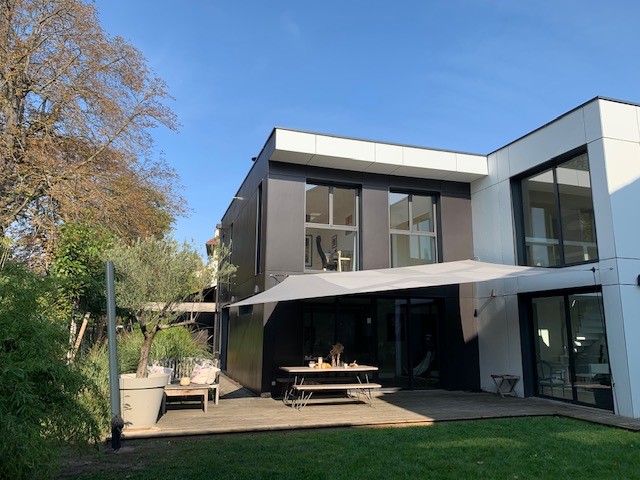 I would like protection
against sun and rain
In this case, we invite you to consider the Acryl 300. The Acryl range provides effective protection from the sun with 97% UV filtration and optimum protection from the rain. The acrylic fabric reinforces the sail and gives it a marine look. 
The Acryl 300 shade sail is waterproof and can resist winds of up to 60km/h. Opting for a roll-up installation will make it easier for you to fold and unfold the sail in record time. Since no water passes through the sail, it is necessary to create a 25% slope for the rainwater to drain naturally and avoid the creation of water pockets.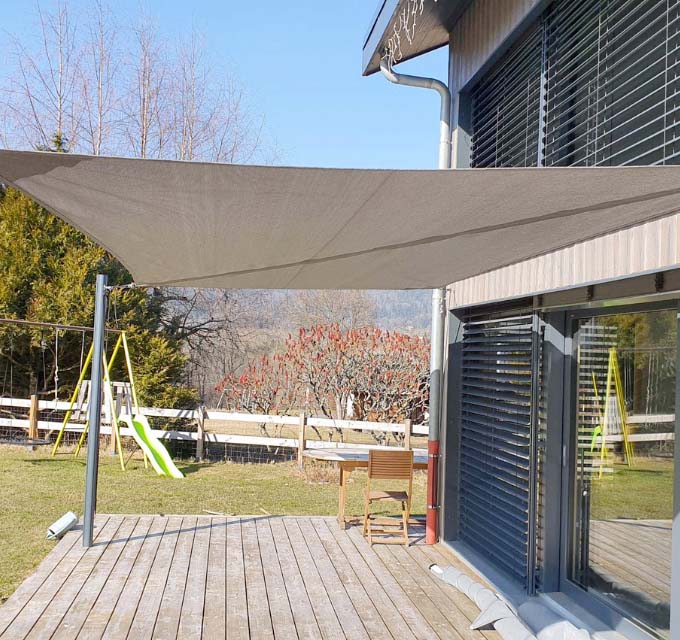 I want sun protection
with wind resistance
The openwork Australe 340 range is the one to look for if you are seeking wind resistance and effective protection from the sun. The Australe 340 is probably the strongest openwork shade cloth on the market. Inspired by the nautical world, its style is well-appreciated and will adapt to all configurations thanks to the different shapes and colors available in this range. 
The Australe 340 filters 97% of UV while resisting to winds up to 80km/h. This is a sail without compromise.
How does the roller system work?
The roller system allows you to roll up and down the sail in 30 seconds. The system is developed so that you can manoeuvre your openwork or water-repellent shade sail on your own and without any effort. It is an option aimed and designed to make your life easier. In case of strong winds, you will be able to roll up your sail quickly and thus preserve your installation. A roller sail can be hung and rolled up all year along, even in winter. However, in bad weather, we recommend removing your sail to avoid any risks or degradation.
Here is a presentation video of the roller system (English subtitles available). 
Explore the shaded terraces of our customers!