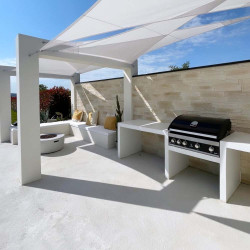 Water-repellent shade sails protect you from the sun and the rain thanks to a special manufacturing process inspired by the technology used in the construction of sailing boats. Water drops do not penetrate the fabric and do not damage it.
Discover our water-repellent shade sails
The main purpose of a shade sail is not only to protect from the sun, but also being able to enjoy the terrace or lunch under the sail in case of rain, which is a real plus. This water-repellent quality requires a 25% slope to avoid creating water pockets. So, before ordering your waterproof cloth, make sure that this constraint can be respected. Here are the ranges of shade sails with these characteristics: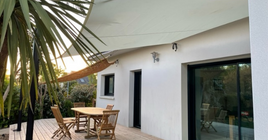 This light sail is an effective protection against the sun and is made of a water-repellent fabric with waterproof seams that will allow you to be protected even in case of rain. Its different colors and sizes make it suitable for all types of environments. 
This waterproof sail has a good quality-price ratio. It remains a technical sail to be well tensioned and positioned on a slope for the evacuation of rainwater.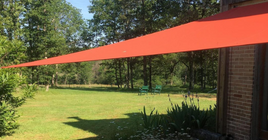 Effectively protecting from the sun with a 97% UV filtration, the Acryl 300 shade sail has the distinctive feature of also protecting from rain thanks to an acrylic fabric. It also maintains a fabric appearance. 
As the shade sail is an aesthetic and custom solution, our range of waterproof shade cloths is available in different colors depending on the finishing touch. These ones are also available in custom sizes and with a roller, which makes it easier to roll in and out the sail.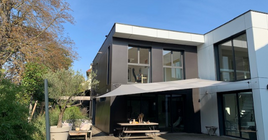 Espace Ombrage's water-repellent shade sails are also available with a roller system and made-to-measure. This option is a strong point in the use of your shade installation since you will be able to roll up and unroll the sail in less than a minute, particularly during winds of over 60km/h. The roller will therefore allow you to gain peace of mind and preserve the lifetime of your products.
To ensure that your shade sail is as resistent as possible, we recommend that you fold it up when the weather is bad or when you are not using it.
With a roller, this operation will be simplified.
Explore the shaded terraces of our customers!