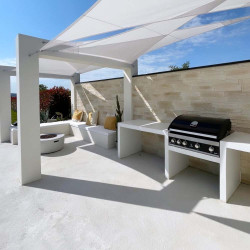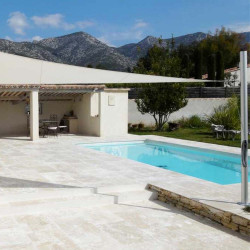 The right fabric for every need
Our shade sails are designed to withstand winds of up to 80km/h for the Australe 340 and 60km/h for the Acryl 300. These shade sails are also designed to protect you from rain, moisture and morning dew thanks to the water-repellent and waterproof nature of their fabric, inspired by the technology of boat sails and the nautical industry. They can be installed over a terrace or attached to the front of your house by a swimming pool or relaxation area.
Discover our range of shade sails designed for outdoor shelter:
- Wind resistant sails thanks to the micro-perforated weave which provides excellent UV filtration and resistance to winds of up to 80km/h,
- Waterproof sails thanks to water-repellent fabrics that will provide shade while effectively protecting you from the rain,
- These sails are also available in roll-up format and can be easily unfurled and retracted in less than a minute.
What fabric should I choose for my shade sail?
In order to make the right choice of fabric for your shade sail, the first thing to know is your needs in terms of protection from the sun or rain. At Espace Ombrage, we have developed four product ranges, each with its own characteristics.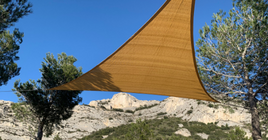 Openwork sail Australe 220
This shade sail is made of micro-aerated fabric with a density of 220g/m2. This allows it to withstand the wind while offering optimal protection from the sun by filtering 90% of UV rays. This shade sail is practical to use thanks to its stainless steel carabiners at each corner which allow a quick assembly and disassembly of your shade sail.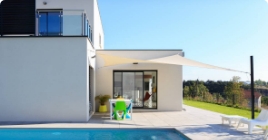 Openwork sail
Australe 340
Even more resistant than the Australe 220, the Australe 340 is the most suitable shade sail if you need a multi-purpose sail that is resistant to strong winds and provides optimum protection from the sun with over 97% UV filtering. Available in several colours, it is suitable for all types of installations.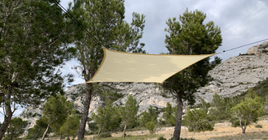 NEW: Thanks to its coated polyester fabric, the SOLAR 200 shade sail is waterproof.
It resists winds of up to 40km/h while filtering more than 95% of UV rays (UPF greater than 30). Its seams are waterproof, a technology taken from the manufacturing of high mountain clothing.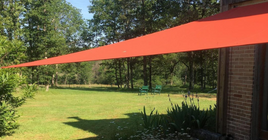 Inspired by naval techniques, the Acryl 300 is a shade sail that protects against both rain and sun thanks to its 100% acrylic fabric. Its waterproof properties make it less wind resistant than the Australe line. Filtering 97% of UV rays, it is a no-compromise shade cloth that allows you to enjoy your outdoor spaces in all conditions!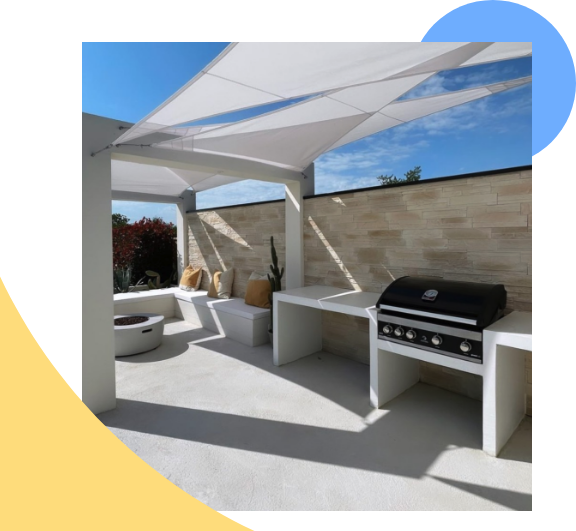 Espace Ombrage's expertise
With over 15 years of experience in the manufacture and sale of shade sails, we are now able to offer quality products that meet our customers' expectations thanks to tailor-made solutions for all possible shade sail configurations.
A tailor-made solution
A shade sail should be a real living space, and it is in order to better meet the needs of our customers that we offer tailor-made solutions for our shade sails.
Cutting-edge tools
As the experience of Espace Ombrage users is 100% digital, we have developed two tools that allow a perfect simulation of your future custom-made shade sails. You can choose the shape of your sail (triangle, right-angled triangle, rectangle, square, trapezium or pergola) as well as its dimensions. As for the shade sails, the colours and fixings can also be customised to suit your configuration.
The Australe 340 and Acryl 300 shade sails are available made-to-measure.
We produce custom sails up to 28sqm. The sides of the sails are 750cm maximum.
In order to optimize the shading on your terrace, we recommend positioning your poles outside the terrace. Attach your sail at approximately 200 to 300cm-high. Do not go higher as the shade will be displaced from your deck.
How to choose the right shade sail?
With many references and characteristics, it is not always easy to find your way around. Here is a small summary table that will help you find the shade sail that suits your needs.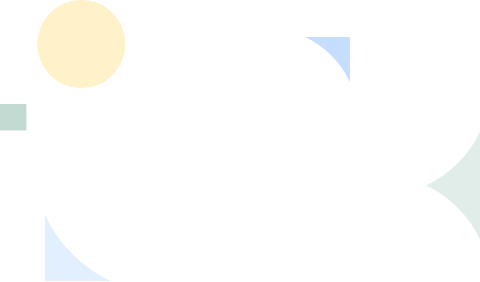 Fabric
Weave
Treatments
Slope
Standard format
Custom-made
Pergolas
Roller System
Water-repellent
Wind-resistant
UV Filtration
Weight
Reinforced angles
Number of colours
Colours warranty
Manufacture warranty
Shipping time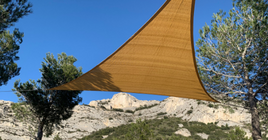 100% high-density polyethylene
Airy-weave
Stain-proof
Root-proof
Free
✓
x
x
x
x
60 à 80km/h
90%
220g/m²
x
4
2 years
2 years
72h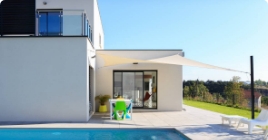 Micro-perforated fabric
Airy-weave
Stain-proof
Root-proof
Free
✓
✓
✓
✓
x
80km/h
97%
340g/m²
✓
12
5 years
2 years
2 to 3 weeks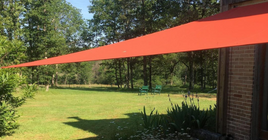 100% acrylic
Tight weave
Stain-proof
Root-proof
Minimum 25%
✓
✓
✓
✓
✓
60km/h
97%
300g/m²
✓
25
5 years
2 years
2 to 3 weeks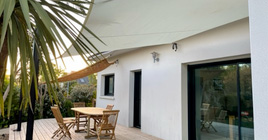 Coated polyester
Tight weave
Stain-proof
Root-proof
Minimum 25%
✓
x
x
x
x
40km/h
95%
200g/m²
x
4
2 years
2 years
72h
Are you looking for a simple and effective way to shade an outdoor area?
 Discover our sun protection sails without further delay. Espace Ombrage has been a specialist in shade sails, poles and accessories for over 15 years and is well-known for the reliability, design and ergonomics of its products. We offer a wide range of well thought-out products in an online shop entirely dedicated to shading. You can find all kinds of fabrics for your terrace and garden, whatever the configuration.
For the purchase as well as for the installation of each of them, our experience brings you a guarantee of quality that you will not find anywhere else.
Explore the shaded terraces of our customers!