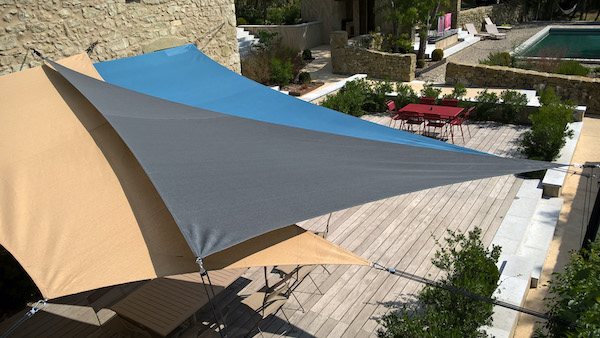 Shade sails for aesthetic protection
The  right triangle shade sail  allows you to combine a patchwork of shade canopies on your deck. The modest size of this shade sail is ideal for covering a small space, such as a deck chair or a rattan sofa. It has a very protective fabric that filters the sun's rays, prevents rain from entering your relaxation area on the Acryl 300 and resists winds gusts up to 60 km/h.
Espace Ombrage offers you a shade sail in the shape of a triangle associated with a trapezoidal canvas that will draw together a stylized shadow on your terrace. With our multi-sail packs, you can also buy multiple triangle sails of different colors and thus get creative and original.
The triangle shading sails are available in several finishes: 
Acryl 300

 : this waterproof range offers optimal protection against the sun and rain

Australe 220

 : the Australe 220 is the basic model at Espace Ombrage which offers a low price with a perfect finish and optimal protection against the sun, while offering good wind resistance

Australe 340

 : considered one of the best shade sails on the market, the Australe 340 is the best finish if you want to combine strength, sun protection and wind resistance. 
The Australe 340 and Acryl 300 ranges are also available on-measure, allowing you to fully customize your triangle shade sail.