Espace Ombrage's wind-resistant shade sails provide effective UV protection and are resistant to strong winds thanks to their "airy" weave. 
They can withstand winds of up to 60-80 km/h.
Openwork shade sails are therefore particularly suitable for windy environments of seaside terraces. 
Designed for "permanent" installation in the summer season, our wind-resistant sails will ideally shade your garden, terrace or swimming pool in an environmentally friendly manner. The manufacture of our shade cloths is guaranteed free of toxic substances.
What you need to know about windproof sails
The purpose of a shade sail is mainly to protect from the sun, but having wind resistance is more than interesting. 
Here are the ranges of shade sails with these characteristics: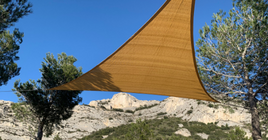 This light sail is an effective protection against the sun and is made of an openwork fabric that helps reduce the sun's heat. Its different colours and sizes make it suitable for all types of environments. Its excellent value for money will meet your expectations and allow you to enjoy your outdoor space with complete peace of mind.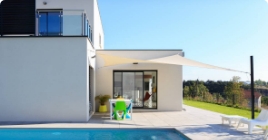 Inspired by the nautical world, the Australe 340 finish is probably the most versatile shade sail on the market: it filters 97% of UV rays while withstanding winds of up to 80km/h. This finish is available in a wide range of colours and sizes and can also be made-to-measure.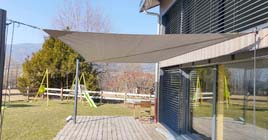 The wind-resistant shade sails from Espace Ombrage are available in a roll-up finish. This is a strong point in the use of your shade system as you can roll up and unroll the sail in less than a minute.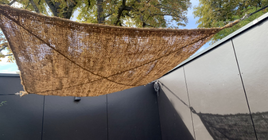 More stylish than ever, this natural coconut fibre fabric will bring a decorative and bohemian chic atmosphere to your exterior. Although it does not protect you from UV rays, it will filter the light and give a cosy effect to your terrace. Its fully open weave is ideal for the seaside if the climate is not too humid.
To ensure that your shade cloth is as strong as possible, we recommend that it is folded up as soon as the weather conditions are bad or you are not using it.
With a roller, this operation will be simplified.
Explore the shaded terraces of our customers!