Design your own customised shade sail
Because you know your environment best, Espace Ombrage provides you with a calculator to create the most suitable shade sail.
With or without a roller, design the shade cloth that will enhance your outdoor space.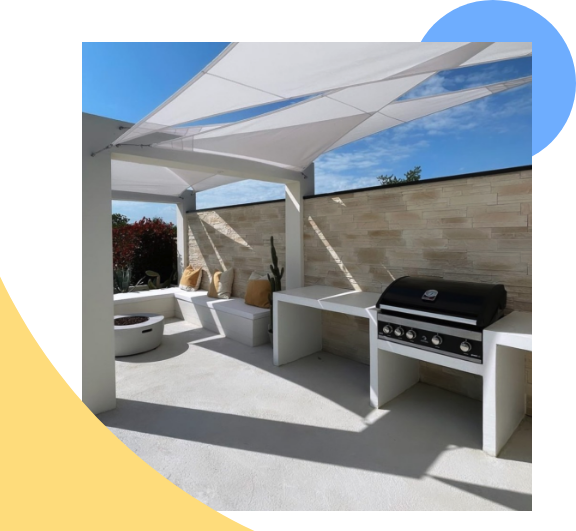 Espace Ombrage's custom calculators allow you to create your own shade sail to enhance your garden or terrace. Use our online tool to design the project that suits you and choose the appropriate fixing methods :
- the custom sail calculator which allows you to choose the shape that suits you, in the dimensions, material and colour of your choice;
- the roller sail calculator which has the same functionality but adds a roller to your project. This equipment allows you to easily and quickly roll up and unroll your sail to your heart's content.
Compare the 3 types of shade fabric finishes
With many references and characteristics, it is not always easy to find your way around. Here is a small summary table that will help you find the shade sail that suits your needs.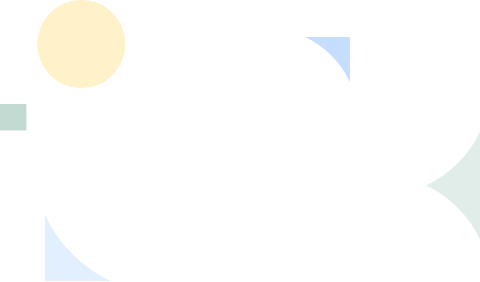 Fabric
Weave
Treatments
Slope
Standard format
Custom-made
Pergolas
Roller System
Water-repellent
Wind-resistant
UV Filtration
Weight
Reinforced angles
Number of colours
Colours warranty
Manufacture warranty
Shipping time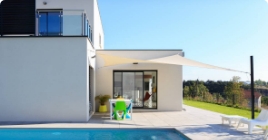 Micro-perforated fabric
Airy-weave
Stain-proof
Root-proof
Free
✓
✓
✓
✓
x
80km/h
97%
340g/m²
✓
12
5 years
2 years
2 to 3 weeks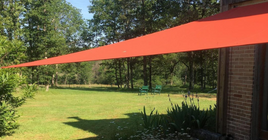 100% acrylic
Tight weave
Stain-proof
Root-proof
Minimum 25%
✓
✓
✓
✓
✓
60km/h
97%
300g/m²
✓
25
5 years
2 years
2 to 3 weeks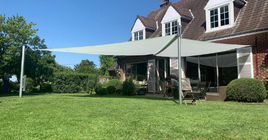 100% polyester
Tight weave
Anti-tâches
Imputrescibles
Minimum 25%
x
✓
x
✓
✓
40km/h
97%
250g/m²
✓
To be defined
5 years
2 years
Minimum 4 weeks
Custom shade sail finishing
In order to guarantee the highest quality, the Australe 340 and Acryl 300 ranges are available in custom sizes. To help you choose, here is a short description of each.
Australe 340
The Australe 340 is a high quality shade sail finish that guarantees optimal protection from the sun with 97% UV filtration. Inspired by nautical engineering, this range of solar sail is made to resist mechanical and climatic aggression. Its fabric also allows it to withstand winds of up to 80km/h. Available in 8 colours, the Australe 340 will elegantly dress up your outdoor spaces while providing an effective and trendy protection.
Acryl 300
Like the Australe 340 finish, the Acryl 300 is a high-end sail finish that provides effective sun protection with 97% UV filtration. Its acrylic fabric allows it to protect against rain while maintaining a natural fabric look. Its waterproof fabric does not, however, allow it to be as wind resistant (maximum 60km/h).
Available in 25 colours, Acryl 300 is the right terrace protection if you are located in a particularly rainy region. Thanks to this installation, you will be able to benefit from an all-weather installation.
Motorized roller sail
The motorized roller sail is a top of the range sail, with a waterproof finish, which protects you from rain but also from UV rays thanks to its polyester fabric. When the wind picks up it can fold up by itself thanks to a wind generator that captures the wind. You also have a remote control that allows you to fold it remotely in a few moments. This shade sail offers you the comfort and convenience to unfurl and unfold your sail as you wish.
With or without roller system?
Custom made shade sails are available with a roller finish. This allows the shade sail to be folded and unfolded in less than a minute. The roll-up system is quite simple as it is composed of a roll-up system (notched pulley, swivel) and a manoeuvre cord.
As well as providing ease of use, the roller shade sail keeps it safe from the elements when not in use. So, with proper maintenance the sail should protect you for over ten years.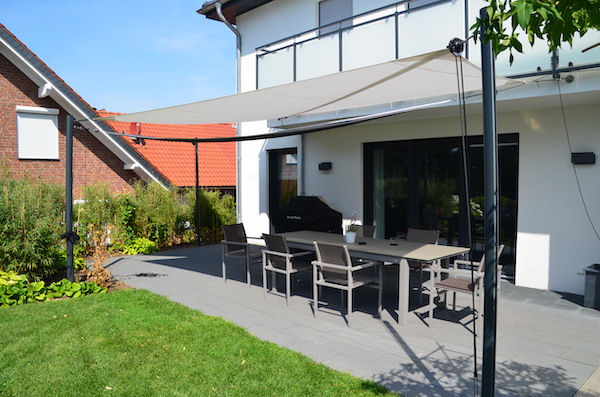 Explore the shaded terraces of our customers!