SHADE SAILS
A LIVING AREA
Cart
(0)
The best protection from the sun and the wind
Even more resistant than Australe 220, the Australe 340 shade sail is the best protection from the sun and the wind ever marketed. With a high quality perforated fabric, it is inspired of canvas used in naval engineering. It is an equipment conceived for durable use even in case of regular exposition to strong winds.
Australe 340
 
Weight :
340 g/m²
8 colors
available
Wind
resistance
Warranty
fabric
Request a tissue
sample here
The AUSTRALE 340 shade sail is adapted to wind-exposed implantations.

It assures an excellent solidity and color resistance faced with mechanical and climate aggressions.

With its fabric guaranteed from discoloration for 5 years,  enjoy a lasting shade sail with a 97% UV filtration without any compromise.


A high quality fabrication for our shade sails :
---
Conceived without eyelets to avoid tear

Reinforced threads for this Australe 340 shade sail

Reinforcement strap inserted in the lining of the shade sail forming a hanging strap in the corners with stainless steel hoops: the tractions are distributed in the entire surface and the shade sail benefits from a better resistance.

Technology from the making of boat sails.

Seams and straps guaranteed 2 years

Delivered with a snap hook at each angle

Fabric guaranteed 5 years :
---


The shade sail fabric is made of high-density polyethylene. Guaranteed 5 years , it provides :
97% of UV filtration
340g/m2 fabric weight
A high light resistance of colors with mass die


A very good traction resistance

An excellent wind resistance (up to 80km/h) with "aired" fabric

A fabrication guaranteed free of toxic substances presenting no health, skin, or environmental risks..

User Comfort :
---



The AUSTRALE 340 sail shipped with a marine stainless steel snap hook at each angle for a fast installation and disassembly. Marine stainless steel is unalterable and has excellent traction resistance.

It filters sunrays while allowing sunlight to pass through. By suppressing glares, it guarantees an optimal visual comfort as well as a highly efficient solar protection.

Shade sails stop direct sunrays on walls and glass surfaces and avoid overheating of exposed rooms. The sails act as a genuine natural conditioner.
The Australe 340 sail can be permanently installed during the summer season, as well as the mid-season if the weather is adequate. It supports weather aggressions very well, its fabric being imperishable and treated against stains. The sail must only be removed during the winter and in very strong winds.
Very easy to maintain, the sail is washable with soap and water.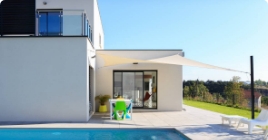 *To receive a complete kit with wall fixtures and/or poles, meet us in the "Additional products" tab or click here
Some advices :
---
The fixture points must always be situated in the continuation of the sail diagonals:
Plan a 45 cm margin in these diagonals so that the fixtures exert sufficient tension.


The shade sail sides are curved. This allows an adequate tension in the sail without creases.
The size of the shade sail can vary up to +/- 3% with the given size because of the elasticity of the fabric, the fabrication process, and the tension brought to the sail.
Difference between the sails 300 x 400 x 500 cm and 500 x 400 x 300 cm ?
---
The sail has a side that is determined by the way you will install it :
From above :
(the sizes are given clockwise)
Sail 500 x 400 x 300 cm Sail 300 x 400 x 500 cm
=> The same goes for the 400 x 500 x 640 cm and 640 x 500 x 400 cm sails
For the fixture choice :
---
We have created fixture kits that contain all the necessary material to install your sail according to the desired configuration :

| | |
| --- | --- |
| | |
| Kits with shade sails: to tighten your shade sail exclusively between walls. | Kit with poles: to tighten your shade sail between a wall and poles. |

These kits are designed to facilitate your choice and ensure you have all the elements for a successful installation. 
Number of Reviews : 58
Average Grade : 4.8 /5
R. Jean-Christophe
the 19/06/2020
5/5
Belles finitions, rien à redire. Très bon délai (4semaines) entre commande et livraison. Continuez comme ça !
G. philippe
the 11/06/2020
5/5
Toile épaisse, la couleur sable ne correspond pas à celle que l'on voit à l'écran mais la vraie est conforme à mes souhaits.
S. Denis
the 02/05/2020
5/5
Produit parfait. Semblable a la description.
T. Franck
the 28/02/2020
5/5
Bon produit
b. jean-pierre
the 11/09/2019
5/5
parfait
G. dominique
the 06/09/2019
5/5
produit livré bien emballé dans un carton
P. Olivier
the 14/08/2019
5/5
Bonne qualité
L. Bruno
the 26/07/2019
5/5
0000
C. HELENE
the 24/06/2019
5/5
Conforme à mes attentes et données du site.
W. Benoit
the 25/04/2019
5/5
Un peu moins opaque qu'attendu. Excellente qualité. Mousquetons fournis.
T. Sylvain
the 11/10/2018
5/5
Produit de qualité livré dans les délais annoncés. Rien à redire.
S. Corine
the 12/08/2018
5/5
Très conforme à mes attentes je recommande ce produit
L. JEAN PHILIPPE
the 05/08/2018
4/5
correspond à mon attente
F. Jean-Luc
the 05/08/2018
5/5
A voir à l'usage, mais pour l'instant correspond à ce que nous attendions.
V. Jacques
the 04/08/2018
5/5
Bon produit de très bonne qualité et finitions
D. Jean-Yves
the 09/07/2018
4/5
conforme
D. Christophe
the 27/06/2018
4/5
La toile semble très robuste. Par contre la couleur cayenne, marron, tire plutôt sur le orange. Pas grave car la couleur nous plait quand même. Peut être faut il demander les échantillons auparavant pour ne pas être déçu. Ceci dit la produit semble de très bonne qualité.
C. Giusti
the 22/06/2018
5/5
Travail soigné d'aspect solideen attendant toutefois de mettre le produit à l'épreuve du vent
A. Joseph
the 22/06/2018
5/5
Bonne tenue excellente qualité
G. Carole
the 15/06/2018
5/5
rien a signaler
M. Jean-Marc
the 03/06/2018
5/5
Parfait
L. Stéphanie
the 02/06/2018
5/5
Magnifique couleur, conforme à ma demande
P. Odile
the 26/05/2018
5/5
Produit de trés bonne qualité
V. Guillaume
the 24/05/2018
5/5
Efface
Z. Patrick
the 12/05/2018
4/5
Très bien
R. Rémy
the 28/04/2018
5/5
Couleurs magnifiques
g. sophie
the 23/03/2018
5/5
Très bonne qualité
M. Vincent
the 19/01/2018
4/5
Quelques problèmes de tension de la toile, mais c'est plus lié à la configuration du lieu qu'au produit lui-même.Je vais devoir adapter les ancrages.
M. Eric
the 29/12/2017
5/5
Produit de qualité
c. françois
the 18/08/2017
5/5
Très agréablement surpris par la qualité de la voile. Les coutures sont de très bonne facture, le produit semble très robuste a voir dans le temps. Taille 3*4m coloris gun métal l ombre apportée est vraiment appréciable.
B. Tristan
the 05/08/2017
5/5
Très bonne qualité.
b. gerard
the 18/07/2017
5/5
facile à mettre en oeuvre
D. JEAN PIERRE
the 09/07/2017
5/5
parfait
S. FREDERIC
the 22/06/2017
5/5
Très belle qualité de la toile et des finitions
T. Gerard
the 29/05/2017
5/5
Toile trés résistancte . Coutures renforcées
C. Didier
the 25/05/2017
4/5
Bon rapport qualité/prix
d. cedric
the 22/05/2017
5/5
parfaitdélai et qualité du produit ok
M. eric
the 19/05/2017
5/5
parfait
B. Michel
the 03/05/2017
4/5
De prime abord la toile semble de très bonne qualité, mais difficile à enrouler ou plier correctement. peut être parce qu'elle est neuve.
H. Benoit
the 27/04/2017
5/5
TRès bien
D. CHRISTINE
the 24/04/2017
4/5
Produit correspondant à la description.
E. SYLVIE
the 19/04/2017
5/5
qualité et couleur conformesemballage soignéravie de ma commande et de la rapidité d'expédition
W. GILLES
the 12/04/2017
5/5
fixation solide et facile a poser
R. Jean
the 17/01/2017
5/5
très bon produit, je le recommande à tout le monde.
D. Didier
the 14/10/2016
5/5
produit de grande qualité , correspond bien à nos conditions climatiques ,encore merci pour avoir détaillé cet aspect des choses
E. Alain
the 21/08/2016
5/5
Correspond exactement à ce que nous espérions, résistance, solidité, facilité d'installation
O. THIERRY
the 25/07/2016
5/5
Super produit, très facile à installer; délais de livraison respecté.A recommander
K. Joseph
the 23/09/2015
5/5
Notre voile d'ombrage AUSTRALE 340 sur mesure est d'excellente qualité. Le service clients est à l'écoute de nos demandes : bravo pour son professionnalisme et sa courtoisie.Nous sommes ravis de notre achat et notre oile a été admirée par nos amis: nous n'avons pas hésité à leur donner les coordonnées de votre société pour leurs achats futurs.Mille mercis pour la qualité de vos produits et pour votre considération vis à vis de vos clients.
G. Brignone
the 14/09/2015
5/5
Installation et démontage très simples et rapides.Excellente qualité du produit qui remplit tout à fait son mission qui est d'allier la discrétion à l'efficacité en matière d'apport d'ombre.De plus, par souci d'esthétisme, nous ne souhaitions pas de mât sur notre terrasse mais nous étions sceptique quand à la résistance de la voile d'ombrage compte tenu de la surface à couvrir. Résultat : Nous sommes ravis du produit.Félicitations à l'équipe d'Espace-ombrage.Continuez ainsi dans le serieux de vos conseils et de vos produits.
B. Pascal
the 14/08/2015
5/5
Matériel ( voile, mats réglables ) de très belle finition et inspire confiance, seul bémol avec la multiplication des façades avec isolation périphérique (en tout cas en Suisse) les tiges de fixation pour façades ne sont vraiment pas assez longues, dans le cas présent il y avait déjà 20 cm d'isolation.Il faut donc prévoir et acheter en plus des anneaux et tige filetée afin de réaliser un ancrage chimique. Pour le reste une fois en place que du bonheur, tout les voisins qui ont mis des stores automatiques, voient ceux-ci se ranger au moindre coup de vent, tandis que nous pouvons continuer de profiter de l'ombre sans aucuns soucis.Le service et la livraison ont été parfait et avons été très bien conseillé. A recommander.
C. Pascal
the 30/06/2015
5/5
Superbe toile ajourée permettant le passage de l'air et de la lumière, Les oeillets sur ourlet rassurent quant à leurs utilisation dans le temps. Très satisfait de notre achat
R. Nicolas
the 16/06/2015
5/5
La voile est superbe, l'ensemble (avec les mâts et les fixations) est magnifique. Les délais de livraisons sont respecté, et le service client est très pro. Nous sommes pleinement satisfaits.
C. Damien
the 26/04/2015
4/5
Voile magnifique , de très bonne qualité . Le rendu est parfait, prise en couleur naturelle, très élégante . Livraison prévue le 23 avril par espace ombrage et reçue le 23 avril ! Respect des délais parfait.
J. ROQUES
the 31/10/2014
5/5
Notre projet a été partiel (nous avions nos propres supports) et cela s'est très bien passé.Le matériel est de qualité et a répondu parfaitement à ce qui était annoncé.Nous avons eu 2 gros orages avec vent puissant (rafales de l'ordre de 100 Km/h), sans avoir à déplorer le moindre problème au niveau des coutures ou des points de fixation.En plus commercialement, écoute et réactivité.Je recommande.
M. PATRICIA
the 28/10/2014
5/5
J'ai acheté en juin dernier, un voile d'ombrage type Austale 340, SUPER décoratif , tissu haut de gamme, belle couleur, ombrage 100%, Nous avons enfin passé des déjeuners et diners sur notre terrasse protégés du soleil...Nous venons juste d'enlever le voile d'ombrage, 5 mois à pouvoir en profiter.Très bon site et toujours une personne aimable au téléphone pour répondre aux questions.Faites confiance c'est du sérieux
G. Dany
the 12/09/2014
5/5
Le produit paraît de qualité, coutures, renforts, texture etc ... mais il faut voir à l'usage.Les vents de 40 kms/h n'ont eu aucune prise sur la voileNous aurions peut-être dû choisir un modèle de dimensions supérieures.
C. Lionel
the 19/07/2014
5/5
La qualité générale du produit est bonne, l'ensemble paraît costaud, et après quelques semaines avec de fortes rafales de vent, la toile n'a pas bougée.Tout le matériel nécessaire est inclus, sauf en cas de fixation dans un mur creux type parpaing.Très on produit que je recommande.
M. Michel
the 19/05/2014
5/5
On rentre dans une catégorie de produit différente de tout ce qu'on peut voir couramment en terme de solidité et de résistance. L'installation est facile, le système de tension est pratique à régler. Une fois en place la voile bouge très peu avec le vent, et le tissu aéré ne donne pas de sensation de chaleur.
More reviews...