Espace Ombrage' shade sails' fabrics
---
The fabric is an essential element for choosing your shade sail.
All the more reason for which the fabrics of our shade sails are selected for their aesthetic quality, their high resistance to climate changes and their lifespan.
By choosing an Espace Ombrage shade sail, you are assured to enjoy a durable solution, which mix confort, ease of use and aesthetic. 
Our shade sails in a few points:
---
    High resistance to breaking, snags and wear.
    Rot-proof : Mold does not affect our fabrics.
    Unalterable : Foldabe even when wet, does not shrink, does not inflate and does not absorb water.
    Colour stability : Ou fabrics feature a high resistance to sunlight, from 6 to 7 on a scale of 8 (as for comparaison, cotton has a resistance of 4).  
    Insensitivity to high temperatures (up to +70° C).
    Easy upkeep : Little stains can be easily removed with warm water and sweet soap.
    Resistance to water and mechanical agressions.
    Filtration of Uvs from 92 to 97%.
    Dirt-proof treatments.

Perforated fabrics (AUSTRALE 220 and AUSTRALE 340) provide an efficient protection against the sun, and are resistant to strong winds, whereas waterproof fabrics (ACRYL 300) provide protection against the sun and the rain.
Espace Ombrage's fabrics : from Sauleda
---
Sauleda is known, nowadays, as a major actor regarding outdoor textile. Sauleda stands out thanks to an evolution-based axis, with fabrics thought as continuous improvement solutions for your area.
R&D investment is essential in order to offer shade sails featuring a high visual confort and maximum sunlight protection to our customers.
Real natural conditioners, our shade sails fabrics are characterized by their versatility. Those are perfectly fit for shade sails' manufacturing. Our shade sails' fabrics can also adapt to every temperature.
A textile handfeel with decorative spirit
The fabrics of our Espace Ombrage' shade sails, thanks to our partner Sauleda, can adapt to every elegant decoration projects
By featuring visual confort, our shade sails will offer you cheerful atmospheres tnahks to top quality raw materials and finishes.
A mix of technicity and refined decoration that only ask for your satisfaction.
The weaving of acrylic threads gives the sails this unique textile handfeel. With a large choice of colours, we adhere to nowadays' trends of decorations, with colours such as Ivory or Grey.
« High-tech » solar protection
Our shade sails fabric offer a true visual comfort, letting the light go through while controlling its intensity.

They also offer protection against harmful effect of the sun. Their texture, whether it is perforated of waterproof, ensure an excelIent visibility towards the exterior, while preserving the intimacy.
Our perforated shade sails, unique on the market and versatilen are made of high density polyethylene threads. Not only do they offer more resistance, but they also create a filtration of 97% of Uvs, thus mixing visual comfort  and UV filtration, besides the advantages of the textile handfeel of a curtain.

Their unique composition, acheived through Sauleda's R&D, gives them a high resistance to weather and climate changes.
That is also the case for our "sunworker" fabric, weaved with PVC coated polyester thread, making the fabric handy and resistant to mechanical and weather agressions.
Finally, our waterproof shade sails possess the resistance of a tar, with a 100% natural aspect. They are, indeed, weaved in 100% acrilyc threads, which offer a visual and thermal comfort while keeping a handfeel and an aspect of textile, symbol of Saudela's "high end" positionning. They also features an efficient protection against the rain and due to waterproof threads.
Colours
Colour at the service of sun protection : choosing a colour means controlling the thermal and luminous inputs of the sunlight. A clear colour will let through more heat, but will offer unmatched luminosity. A dark colour will bring more cool, but will filter the sunlight. 
The colours also offers a protection against UVs. A dark colour will stop UVA and UVB integraly ; a clear colours will be as efficient as a 50 sunscreen.
Discover our pictures of shade sails with original fabrics, atmospheres and trendy colours ! 
Espace Ombrage's fabrics assets
---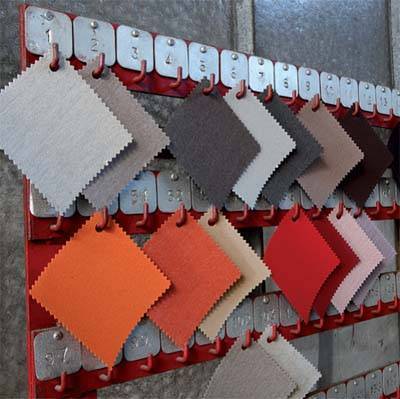 Beatiful performances !
Resistant  colours, even when submitted to an intense solar beam, or washed with chlorinated water, that keep all of their shine. 
Superb handfeel
Espace Ombrage's fabrics are soft, pleasant to touch and very strong.
Remarquable effects 
Our shade sails fabrics are available united, refined and trendy.
Serenity 
Espace Ombrage's fabrics resist to saints and don't tarnish, so you can enjoy your sail serenely. 
The fabric of our sails will ensure a excellent and durable protection against UVs, heat, luminosity, and weather conditions. 
Upkeeping and cleaning shade sails' fabrics :
Cosy, elegant and handy, Espace Ombrage' shade sails allow you to enjoy you outdoors serenely.                                                                                              The fabric are extremely easy to upkeep, and most of the stains can be washed away with water and soft soap.
With their high resistance and their large range, Espace Ombrage' shade sails are bound to seduce you!
To keep your fabric in perfect condition, and postpone an in-depth cleaning, one of the best ways is to upkeep it regularly. 

This upkeep consists in removing the dust using a brush before it inlays, wash the stains at the moment they appear, or do a local clean up after they appear. 

Current and soft upkeep 

• Remove every dirt that doesn't inlay with a brish.
• Handwash the fabric, by following the following instructions :
• Prepare a cleaning solution composed of 60ml of soft soap diluated in 4L of warm water (at least 40°C).
• Wash with a soft brush and let the fabric absorb the solution. 
• Rinse abundantly and let the fabric dry in open air

Waterproofing of the fabric to make its upkeep easier :

The fabrics of the waterproof shade sails such as Acryl 300 feature a special treatment which enhance its water repelance. This treatment is made to keep its efficiency for several years when used normally. However, it is still possible to reinforce that protection with an waterproofing product. It allows you to restore the water repelance of the fabric. It prevents leaks, especially in the weaving,, stains and mold, and provide protection against UVs.